Travel Photos — Turkey
Turkey truly has an amazing, diverse geography. It also has a long intricate history and a fascinating cultural history. I can't begin to tell you how strongly I recommend it as travel destination — and I couldn't begin to tell you all about it here. Fortunately, there's a great website by Kerem Almaç called Turkey in Photos that is full of its history, photos, and other information. If you're at all curious about the world I recommend you spend some time there.
Meanwhile, here are some of my own photos of Turkey.
Turkey has some amazing landscapes. This area (the 1st 3 pics) is Goreme, a valley where these pumice-stone-like mountains look a bit like sand drifts from a distance.
That's a person at the front left, carrying the wheat(?) being harvested.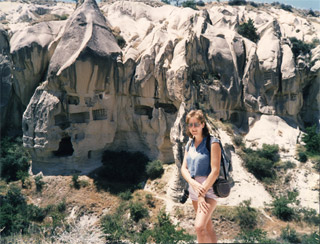 Here I am standing in front of some of the last lived-in homes.
The reason for the holes you see, is that when the early Muslims came through the region demanding Christians convert or die by the sword, the Christians dug home into the mountains. They were quite intricate, and even had tunnels to underground towns miles away.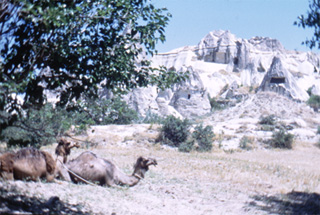 Here's a common site. A couple of camels rest in a bit of shade.
I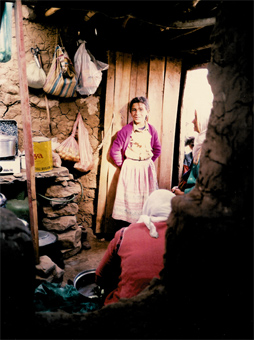 also took a trip to Nemrut Dagi. (Dagi, pronounced Dai, means mountain.) Since this is a rather remote place I signed on to a group to get there by vehicle.
This is the hotel we stayed at overnight. Specifically, this is of the kitchen, taken from the main room. The walls are clay. The door is wood. The roof was wood and leaves with plastic bags to insulate from rain. That's food such as rice hanging in the bags. (It tasted great when cooked.)
In the dark of the night we embarked on our hike to avoid climbing in the heat of the day. It was quite a hike up that mountain!
This is me in by one of the statues atop Nemrut Dagi.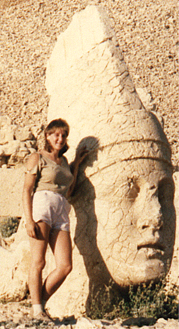 They say an earthquake toppled the head off of it's throne & body, behind it to the right.
But...
how did these huge stones (the head is a single stone) get there from the only stone source far, far away, down the mountain?
What is under the stones?
Why were the statues erected?
They say it was to protect from the land and sky.
The text on back of the story stones (left) had not been translated when I'd been there in 1987.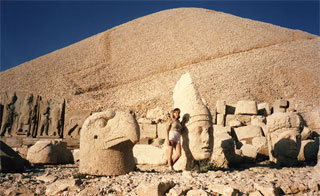 Turkey truely has an amazing, diverse geography
All photos on this page are © Deborah Shadovitz 1987.
They may not be used without written permission.