About me
— a more personal look
Where am I from?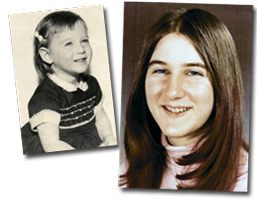 I was born right smack on Manhattan Island. NYC! Overlooking Central Park.
My pre-school years were lived in Briarwood, Queens and upstate in Dansville, NY (home of the Red Cross and breakfast cereal).
But by the time I started school, home was Syosset — a hamlet in the town of Oyster Bay (as in Billy Joel's first album) in NE Nassau County, Long Island.
(Check out Syosset Scrapbook)
My dad selected Syosset for its top-level schools and I'm very lucky he did. I got to major in Art and English — starting in Jr High School! And to win a national journalism award too.
For college I lived in Oswego, NY, attending SUNY there. After that I did stints in LA, Hartford, and New Jersey, finally landing a dream job in NYC and moving into Stuyvesant Town (a NYC apt complex).
Life in NYC was amazing: Broadway shows, top clubs where I knew the management through my job, concerts and bicycling in Central Park, sailing, and much more.
Then I left to travel, calling places like London and Sydney home for a while.
Returning to the US, I eventually ended up in LA and it become home thanks to great friends here. I lalso love the heated pool outside my balcony and that it's warm enough to swim almost year-round. There's nothing in the world like the skyline of Manhattan but there are some terrific sights in Los Angeles too. (See this LAX landing from a cockpit on YouTube.)
Did I study computers?
Nope. Just a short course in Basic during Math in High School. In High School I majored in Art and English. Art included cinematography. English included creative writing and all aspects of journalism and publication creation. (Syosset High School was amazing and some of my teachers were unbeatable. In fact, my entire professional writing education came from Mrs. Marder, Mrs. Arnold, and Don Feinstein right there in Jr and Sr High.) In college I studied TV, radio, A/V production, and printing. SUNY, college at Oswego was known for this stuff and again I had some unparalleled professors.
Professionally, I started in writing, journalism, video, and A/V. I used a computer to program slide shows and motion message boards, but that's different.
Hobbies? Likes?
I love theater. While living in NYC many friends were in TV, theater and PR so there were plenty of Broadway shows in my life.
There's nothing like a theater district!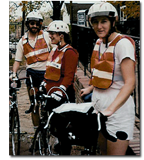 In NYC I started bicycling. With the AYH (now International Hostelling) I rode all over NY, NJ, CT, and MA. This photo is from one of those rides. I loved the Five Borough Bike Tour in NYC. I took my bike to London too, and cycled the south of England, across Holland, north-west Germany and southern Denmark. Rode the London-Brighton ride once.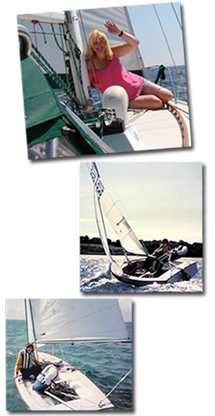 I love boating.
I have always dreamed of having a boat and living at a lake. When I was younger it was a canoe I wanted in my back yard. Now I'd go for sit on top kayaks. But I still would love a canoe. For a few years I was in a sailing club and got to sail in Marina del Rey. That's where the top sailing photo was taken.
I first learned to sail in NYC — yes NYC — through a group called TASCA, on the "lake" at the old World's Fair ground.
Funny story: I visited the Long Island Mac Group in the summer of '98 and two members gave me a ride home. Passing the fair grounds I recalled learning to sail there. Turned out that this couple had been my instructors!
When I lived in London I also took lessons in the Aisle of Wight. I biked down there, of course. (That's where the lower two of these photos were taken.)

Favorite color?
Many. All. Life would be boring without all of them.
What did I do before Mac? Pro-video.
For a few years, I worked in video production in and around NYC. Then I did A/V, video, PR.
This is me as an engineer at WFSB-TV, Hartford. FSB was quite an experience.
I'd worked in engineering at WPIX-TV in NYC and had one of the greatest times of my life. At WPIX the men enjoyed my company and helped the younng girl who was just starting out. But at WFSB, the guys felt women didn't belong in engineering and actually gaslighted me.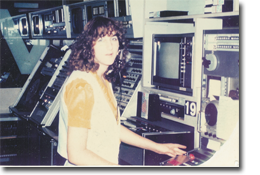 There'd be no one around when I needed mic checks, so I figured out how to pull off my air tests alone. Ever hear a newscaster sound far away? Dead mic. Happened a lot because batteries went missing from mics although I'd changed them.
When I needed mics hung, I'd walk the entire studio calling for the guys. Absent all, I'd start up the ladder myself and at that moment they'd run in screaming union breach! (I was union too, I needed to get the job done.)
One guy finally admitted they were all behind everything that made me look incompetent. They respected what I was doing, and all was well. I'm eternally grateful to Rayna for befriending and helping me. I'd love to find Rayna and tell her.
Great thing:
In 2004 Rich Lenoce, VP of the Connecticut Macintosh Connection (User Group) read this. Rich teaches broadcast video production and wrote:
"I'd like you to know that several female grads from my program are working at WFSB-3 and things have changed."
I had a role as a broadcast or women's pioneer!
Favorite books?
So many! Here are my top favorites. Each makes you think, most take you places, and all introduce you to unforgettable people.
Favorite entertainers?
Cary Grant has been my favorite actor since I fell in love with him watching Arsenic and Old Lace (1944) — — in my college Tavern, and then in the Hitchcock films like North By Northwest (1959) —
Sandra Bullock is probably my favorite modern actress. I like that she seems real and I like the characters she chooses to portray.
My favorite magician is Magic Bob Weiss. I first saw him perform for an impromptu crowd at the Magic Castle back in Dec 1993 and asked for his card. Since then I've seen him do many an event, including my own family parties. He never fails to make everyone smile, laugh, and gasp in amazement. You might say he never misses a trick. :)
Any vendors reading this, Bob does great marketing magic.
My favorite Broadway show was probably Dream Girls but I don't think I ever saw a bad show either on or off Broadway. (I miss Broadway!)
Favorite Music?
Favorite foods?
Seafood! No question.
Spinach and almost every vegetable.
My*T*Fine Chocolate pudding. Which is common in the NY area and virtually unheard of anywhere else. Luckily, friends bring if from NY for me and it doesn't go bad. (Kosher: OU/OUD)
Tootsie Roll. It was the first candy I had when I returned to the US after my trip. I love that one can last a long time — and that it's chocolate. Funny that the Tootsie Roll company also owns my next favorite candy, Andes mints.
Mallomars. They're common around NYC, but just known in movies to most of the rest of the US. I love 'em, but not at the price to ship them to LA. Once in a while a friend from NY brings them back for me.
I'm also a sucker for any really good dark chocolate, Trader Joe's huge Dark Chocolate bar, and most of See's Candies pieces. (I once worked at Godiva on Park Avenue and sure loved that chocolate too!)
Cherry Ripe is another favorite candy bar. It's made by Cadbury in Australia and not sold in the US. It's a bit like a Peter Paul Mounds bar (which I also love) — only with bits of cherry inside!
A friend visited their factory in Sydney November 2007 and asked why they're not sold here. The response was that there was no interest. How can anyone have interest in buying something they don't know exists?! If you love dark chocolate, coconut, and cherries, let 'em know you're interested via this form. (Only when I did I was unimpressed with their response.)
While on the topic, my favorite ice cream flavors are Chocolate Mint, Black Cherry, Chocolate, and Moca. My favorite brand outside of Italy was Dryers (called Edy's in NY). Still would be but I don't like the way they have now made their containers smaller twice. I also love Rite Aide's which will always be Thrifty's ice cream to me. I now tend to buy Thrifty's' (Rite-Aid) or Ralph's PS brand.
And to combine candy and ice cream, I'll go for a dark chocolate Dove bar, any flavor ice cream inside.
Love good (not burnt) coffee! Always have. (Not Maxwell House. I've been boycotting Maxwell House Coffee since I was 18 due to their poor customer service.)
Why'd I leave NY?
I always wanted to know the world. Suddenly all the pieces of my life came together to hit me on the head that the time was perfect, so I packed everything into storage, bought a one-way ticket to London, and hit the road. (You can see some of my travel photos on my travel pages. This shot was in Brehman, Germany.
After three years of backpacking the world, I was tired and wanted to come home. There was more to experience but I realized I could always travel again later, and it was time to rest. I returned to NY just to visit my folks and had the great experience of working at SHS, my former high school, for a semester. But I felt that I was different now, so I didn't want to step back into "same." Instead, I decided to move to San Diego. I packed my newly purchased used Honda Accord to the brim and headed across the US for the 2nd time.
I met great folks during my travels. If we met somewhere along the road, please write and say hello!
How'd I get into computers or Mac?
Arriving in San Diego, I bought a Sharp laptop (with two floppies!) and taught myself DOS and Word Perfect to sit outside by the pool with a cordless phone and write about the adventures of my past 3 years. I'd spent them traveling around much of the world meeting all sorts of people and learning about life, cultures, and history.
The start of 1989 saw me land in LA where my then-boyfriend suggested that rather than returning to my pre-travel video production career, I sell computers. I decided to go for it and got myself hired at the now defunct SOS Computers on LaBrea selling IBM clones, Mac, the Apple IIgs, and Amiga. Those few months were interesting times.
The owner's son believed women couldn't know or sell computers. He'd get so annoyed when I knew things or made a sale.
Once a man spent hours asking me questions but turned out to want a date, not to want a computer. (Flattering but not ok when on commission.)
One of my customers called me for help, got very frustrated that I was not helping him and demanded to speak to a man. All the guys were with me on the speaker at that point so one took over. No better. Me again. I said, "are you sure you are pressing the letter c, lowercase, not with shift (pause), the letter d (pause) colon..." This time, exasperated, he said "Yes! Colon! I'm not stupid! I know what a colon is. It's that dot with the squiggle under it!" Ah, those good old DOS days....
We sold Macs, but I preferred Amigas because they did graphics so well. I sold many to TV stations for show credits and animations. Then, one fine day the Microsoft rep came in and showed us this great new interface called Windows, for 286 machines. Funny thing… it didn't work so well when I tried it myself. Funnier, that's what made me look more closely at the Macs.
Hired away by Inacomp in the spring, I moved to Orange County. There, a great Aldus rep came and showed me FreeHand (newly at 2.0) and I fell in love with it. Then came a video trade show where I saw a Mac Plus work as a video switcher! Next I discovered Prodigy online service. I was hooked on the Mac!
I loved showing people the Mac's power, but that's not what makes a good salesperson. So when Inacomp closed its storefront sales at the end of 1989, I went to work doing demos of Prodigy, doing freelance Mac office work and desktop publishing. I was fully freelance, making my living with my Mac II, OS 6, and 1200 baud modem. In 1991 I came to my first LAMG meeting, timidly answered a Q&A question, and ran for the board so I could learn more and meet people. Soon I had a great bunch of friends for the first time in California, a career doing training, and I was writing for the LAMG Digest.
Since then I've appeared at several vendor's tradeshow booths. I've been on several Macworld Expo stages including a Pundits panel, a Warm-up Rally, Mac Beginnings (many times), User Track seminars and full-day seminars. I've written columns for ComputerUser and MacCentral (which made me world-famous). I've authored for MacHome Journal, NetProfessional, and New Media magazine. I've also been on the radio in Anchorage LA, and the internet, and I've been quoted in LA newspapers.
What's my own computer setup?
My main Mac is a 15" unibody MacBook Pro, the new design with the beautiful LED lit, glass screen and an EPEAT Gold rating. I'm a portability fan. It's hooked up to a second screen via a StarTech Mini DisplayPort adapter. (It was the same price as Apple's when I got it, but more compact.) I crave a nice, huge TV that I can also use as a 2nd monitor but live without it quite well.
I also still use my 15" Aluminum 1.25GHz PowerBook with 2gigs of Kingston ram. (I also have TechWorks ram, from OWC.) Shocked that I went so long before jumping to an Intel-based MacBook Pro? I am too, but this one did me well that I just kept using it. I sure see performance difference though!
With my Mac, I carry:

Portable 500GB hard drive. It's got movies, some installers, and even a backup of my drive.
My mouse — the BT-550 mouse from Radtech — an optical 2-button clickable scroll wheel mouse that fits both my hand and my PowerBook bags well.
I carry a Kingston MobileLite 9-in-1 card reader (part #FCRML or FCR-ML) with me that turns all sized SD cards into thumb drives. I love this reader! Kingston has gone on to make other models but this remains my favorite.

Utility CDs: TechTool Pro (subscription so I always know I have the latest), Data Rescue II, and Drive Genius. (A current version of DiskWarrior is on my to-do list.)
Various media — Compact Flash, SD cards or all sizes. I lean toward Kingston and Lexar.
Bongo Ties! I have some everywhere, to tie up cables and to do so much more.
Note: The hardware I use is detailed on my Favorite Hardware page.
Backup:
You've got to have backup! I have two back up drives: a Seagate Firewire 800 that, thanks to SuperDuper! is my identical drive copy. A Western Digital MyBook that I use with Time Machine. I have some OWC drives too.
Cases:
I love (or loved) my 15" powder blue Timbuk2 Commute bag when I have lots to carry or it's raining, or a Marware SportFolio Neoprene case when I'm going very light. Alas, the downside of a snug bag is that new models don't always fit. My other bag still works. It's an STM Alley Shoulder Bag from RadTech. I like it because it's long and narrow, rather than a wide load.
My other Macs:
For a long time I had an eMac 800mhz partitioned with OS 10.1, 10.2, 10.3 and 10.4 on it so I could recall what was what. Now those OSes are on an external disk and I donated the eMac to a group home.
An 800mhz flat panel iMac too, same generation as the eMac.
I owned a PC too. I actually wrote my ClarisWorks (cross-platform book) and Office 98 books using Virtual PC, but for the GoLIve book and articles I decided to have a PC box. My PC was hand-built from industry-standard parts by Tyler Regas. But it got too old and wouldn't update any longer so I donated to be part of an Indie movie set.
Other devices
iPhone, of course
(I had a Treo 700 and cursed it with every call. It was designed for people without ears!)
Nano — first generation 4 gig
wearing a pink Belkin case that flips open. It lives in my red VestaLife speaker which works brilliantly to allow me to dance in the shower.
iPod — 10 gig
It's now my main music player in my living room, along with a compact speaker.
Canon A520 digital camera. I love the form and fit but I regret buying it because it's way too slow and the lens cover fails to open properly. Same issue my brother and others have had. In my opinion, Canon should never have sold that camera.
Tapwave Zodiac II PalmOS gamepad — won at E3. Fun for games. Mac compatible so Missing Sync by Mark/Space enabled me to use it but since the iPhone it's just for games. Frustrating because you lose everything when batteries go dead. The kids I know don't ask for them any longer.
2010 saw the retirement of my belovedPalm Zire 71. I was long past using it as a PDA and loss of data when batteries ran out was frustrating, but but it was still nice for games. Unfortunately, it was put into a box with other items and the screen got blotched.
Other Macs I've owned
My first Mac was a Mac II I bought used. From there I moved up to a IIci. Next a PowerMac—Quadra (?) At the same time, I had my first PowerBook, a 520C. I loved that machine! It hurt to part with it. Soon my Quadra became a 7600 and it was eventually upgraded to G3. My next main Mac was a Pismo. I basically stopped using the 7600 at that point. Yes, it was a long time coming to me. Great unit! The trackpad was so comfortable that I was able to do artwork with it. (Like the buttons at GoLiveBible.com, now at GoLiveBible.Shadovitz.com.) When it fell off a table I had to give it up and move to the Titanium 15" (aka TiBook). The Titanium still works and I loan it out. It was replaced by an Aluminum 15" which I hung onto through the first generations of Intel Macs. It also still works. I am counting on it to run OS9 (OK, Classic) whenver I have to help someone out or go back and compare versions of an app. I also had a 2002 eMac 800mhz partitioned with OS 10.1, 10.2, 10.3 and 10.4. I donated it to a group home though.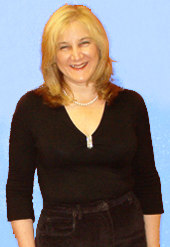 What's next?
I've got my writing. I've created a few great Macintosh events — the MacGathering™, MacDayLA, The Party For The People/Mac MIngle. I get to be on the air in major market radio. I love training. I love it all and I'm proud to have accomplished it all.
It's all fun because it's all about teaching all the amazing things our Macs can do — which extends all the things we, ourselves, can do. I also have fun writing about the Los Angeles area, too.I
There's one more thing I still want very much though: to hook up with the man of my dreams (who happens to find me the woman of his dreams) and form a family to travel through life and the world with.