Macintosh Hardware — some of my favorites
Great Hardware & a great OS
...so you can focus on the things that really matter in life, not machines.
First you need a great machine...
Apple Computer; they made it all happen - first with Apples, then Mac.
Then, you may be interested in a few peripherals...
These are some that I recommend based upon first-hand knowledge.
Cable Ties - actually a tie for nearly everything

Ever need to tie up a cable or two? To keep a few items together? Bongo Ties, invented by brilliant VR expert Tim Petros. BongoTies are the easiest, most flexible way to tie your cables together or to wrap up a cable to store or carry in your laptop bag. I love that they're light to carry and aren't velcro so they don't ruin my clothing. They can be opened easily to add or remove a cable. You can even "store" the tie with the cable. And they're fully reusable.
They're not just for Computer use. You can use them to fasten so many items. I keep them in my car, home, and toolchest as well as my computer bag. Check them out at the Bongo Ties website! When my rearview menu fell off one very, very hot summer day, I was able to suspend it almost perfectly with 3 bongo ties and safely drive the 58 miles home from my speaking engagement.
You can buy Bongo Ties at places like ACE Hardware, or get them online from Other World Computing or get Bongo Ties online from RadTech. [May 2006, up-to-date as of 11/2010]
Wi-Fi & Ethernet Router
If you've go high-speed internet and you either have multiple computers or have just one but have laptop-owning friends, your life will be much nicer with a router that provides wireless access.
In October 2007 I bought myself an Apple Airport Extreme 802.11n and didn't have to restart it for 5 months. I rarely restart it. I don't love its price, but it's a terrific, beautiful, simple to use router. The Extreme has a few ethernet ports as well as a USB port that enables you to share a printer (or possibly a hard drive although Apple unfortunately waivers on this).
The Express proves to be terrific too; never needed restarting when I tried one for a couple of months and rarely needs restarting anywhere I have people using it. However, it lacks ports.
On 12/21/05 I'd switched to Belkin's Pre-N Router. (I was not a fan of their previous routers which were not designed or built in-house.) My speed via wi-fi now went up to 5705 Kbps, as high as via Ethernet. Impressive! In July 2006 I moved to the Belkin N Router. Again, I was happy. However, I found I had to restart the router every week or two.
I've set up a clients Linksys G and liked the experience and result.
Learning note: I had some family using the Netgear G router successfully for over a year and all was well with it. But when a unibody MacBook, which has an "n" card in it, came into the house, it would not communicate well. Replacing that old router with an "n" Airport Express, all was well.
The other side of the wi-fi equation is the receiver — the wi-fi card you put in your computer so you can connect to a wi-fi network.
All Intel Core2 Duo Macs come with 802.11n cards in them so you're ready to connect using Apple's built-in Airport software.
Many older Macs came with 802.11g cards which also easily connect using Apple's built-in Airport software. 802.11g is fast enough for using the internet. However, when you have an "n" router, an "n" card will connect from a father distance and give you a stronger connection.
If you'd like the benefit of 802.11n and don't have an Intel Core2 Duo Mac, the solution is one of 3 802.11n receivers by Edimax. You can buy Edimax receivers at an excellent price from Other World Computing. Apple's built-in Airport software won't work for these, so they come with their own software that you'll need to use. [accurate 2007, not revisited in 2010]
Cards and Card Readers
These days just about every device uses some sort of SD card, whether full size or mini or MMC (micro-mini).
I have a stash of Kingston cards that are tiny and come in SD-sized carriers so they fill many a need.
My favorite card reader is the MobileLite 9-in-1 Reader by Kingston. Their website doesn't do it justice. This light-weight, plastic reader is also a case. It flips open and you slide your SD, miniSD, or MMC card in, then pop the reader into your USB port. A slider inside makes it easy to remove the card when you're done. You can keep a card in and carry it with you as a thumb drive. It accommodates 3 cards at once, one of each size. And the cap still stays on to protect the USB connector when I toss it into my handbag or laptop bag. Kingston released an updated model in 2009 but this remains my preference. [11/2010]
Input Devices
Since before 2 buttons were Mac-cool, I've been a fan of the 2-button mouse. Although Apple doesn't choose to use proper contextual menus, they do provide some convenient control-click functions, and happily some programs provide proper contextual choices when you control-click. So if you're not into using your spare hand to press Control, get used to the right-click.
Some of my all time favorites (still valid 11/2010):
For Bluetooth the BT-500 by Radtech. ($54.95) Very small, effortlessly fits into any MacBook/PowerBook bag. Rechargable via its mini USB cable. On/off switch and power saving. 1600dpi for accurate tracking.
I am always impressed by Radtech-branded mice. They put a lot of thought into their mouse components.
For a larger Bluetooth mouse, I love the mid-size BT-550 mouse by Radtech. ($54.95) Again, it rechargable batteries charge via its detachable mini USB cable and there's an on/off switch and power saving. 1600dpi Laser Tracking.

Tip: Follow Radtech on Twitter for special deals.
An old-time favorite: MacAlly's iOptiJr, optical scroll wheel mouse either pictured here or all-white. Comfortable, small but not too small, it fits in a laptop bag easily while functioning well on your desk.
Did you know that OS X has handwriting recognition built-in, ever since Panther? It's called Inkwell. You may not if you don't have a tablet attached because the System Preferences application is so smart that it doesn't show the Inkwell prefs
If you're a tablet user and are often on the go, you might want to try MacAlly's IceCad USB mini graphics tablet and pen. It's so small it's a cinch to carry. Unfortunately someone borrowed mine so I will never see it again and I have not been able to test it with Leopard and Snow Leopard.
For serious artwork every graphics professional already knows about Wacom's pads and pens.
USB Hubs
Got lots of USB stuff? You'll want a hub. But all hubs are not equal. A good hub will detect when a device is pulling too much power and shut down that device so the other devices can work. Since 2005 or earlier, when asked about USB hubs I always recommend Dr. Bott hubs first.
For years I used the Dr Bott 7 port USB hub. Never a moment's problems with a Dr. Bott hub. The ones I used were not USB 2 or 3, but I have reason to believe their newer hubs are just as great. I also like the T3 Hub, designed for laptops, it barely weighs anything and is compact. [updated 2010]

Hard Drive Storage
If you think you don't need a spare hard drive, think again.
Please have a backup, backing up to an external FireWire or USB2 drive. Use OS X's Time Machine, SuperDuper! or Prosoft's Data Backup Mac. Back up to hard drives that have power supplies and fans, as they seem to be more reliable than the pocket-size drives.
Plus, with spare storage, you can enjoy collecting videos, music, and photos. I have a pocket-sized drive for this stuff so I can bring it with me when I want to. There's room on my MacBook Pro's 500gig drive, but I'm enjoying keeping it lean, and besides, I can share my pocket drive or pop it onto a friend's larger-screen.

I love the external FireWire hard drives from Other World Computing. OWC is careful about what it puts its name on and about the other drives it chooses to sell. I've counted on OWC for many, many years. [Nov 2010]
For my Time Machine backup, I've been using for nearly 3 years now is Western Digital's MyBook. I have the 500gig with USB2 and FireWire. I picked it up at Costco. They are available at office and electonics stores as well. [Nov 2010]
For my SuperDuper! backup, I've been using a Seagate for the past year.
My other drive, the portable pocket drive, is by Hammer. It's mini USB only and doesn't let you hook up drives in serial so i'ts not as flexible for tech stuff, but it's handy for many purposes.
For all monitor owners (including laptops, cell phones, PDAs, iPods)
Some people prefer iKlear's while others prefer RadTech's.
Either way, they're the two products I prefer to use on my stuff.
The ammonia in most window-cleaning products hurts anti-reflective coatings and dries out plastics so steer clear of that stuff.

Klear Screen (aka Apple Polish) cleaner & polishing clothes do not contain ammonia. I also trust it best on PowerBook/laptop screens because of the drying properties of window cleaners. It's also my choice (and recommended by manufacturers) for PDA screens — and for all plastics such as iMac and iBook/MacBook cases. (Most cleaners dry out the plastic cases and cause it them crack.) Top manufacturers such as Apple, ViewSonic, Sony, and Palm recommend this cleaner for their products, so I'm in good company. I've been using this stuff since about 1994. It's also the only thing I use on my TV screen and case.

RadTech's OmniCleanz is the other screen cleaner that I trust. It's called OmniCleanz. OmniCleanz contains no alcohols, ammonias, detergents, harsh chemicals, dyes or odors. It is 100% Bio, environmental and child safe. It's used by sed by Boeing, Texas Instruments, General Electric, Lockheed-Martin, M.I.T., and Oakley.
For anyone with memories on tape or vinyl records
One day I found a box of old cassette tapes in my parent's garage. Now I have the sounds of voices past — thanks to a cheap Sony Walkman, the Griffin iMic, and Griffin's free Final Vinyl software and a simple headphone-jack sized cable. I just plugged the iMic into my USB port, went from the headphone output into the Mic input of the iMic. Then I launched Final Vinyl, clicked Preview, started the tape, and clicked Record. It's so cool that it works from the headphone jack; I don't have to turn any of my electronics around and mess with cables. It supports both Mic and line level input, though; very flexible.
Griffin Technology has several input devices. When you want to get sound into your Mac, these are the guys to see first.
And after you've done your import, if you'd like to clean up the sound (remove the scratchiness), there's SoundSoap, by BIAS Inc. [Oct 2007]
MacBook stuff
Cables
The 2008 unibody MacBook Pro removed FireWire 400, leaving us only one FireWire 800 port. But many of us have FireWire 400 devices. The solution?
Sonnet's image, borrowed here, shows you the difference between the connections.

MacBook/MacBook Pro Protection
Apple makes very durable products but sometimes it's nice to have more protection. Especially when it provides extra fun and beauty as well. As far as I noticed, Speck led the way with its hard shell case, then others started making snap-on cases in leather.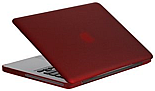 When I first saw Speck's hard shell case, I thought it interesting but wasn't sold on the idea. I wasn't sold on any of the other brands hard shells or leather shells either. Then, at the dawn of 2009 I saw the shell that changed my mind...
Speck's SeeThru Satin Soft-Touch on a Hard Shell Case
It's the satin that won me over. The satin not only feels great, but also provides a better grip. Some people wondered if a shell would upset the balance of the lid, but I have not found that to be the case. The fit is perfect. I don't notice the weight, and I am less worried about handling it. ($49.95)
The only difficulty I had was in choosing a color. The casing conflicts with the Kensington ClickSafe cable though. I am working to solve this. [2010]

Screen Protection
PowerBook and MacBook owners knew the issue of the key marks on the otherwise perfect and beautiful screen. (I am not seeing them on the 2008 unibody MacBook Pro.) The marks are dirt, not scratches, but can be bothersome. What can you do to prevent these marks? You might insert a piece of white paper over the keys when you close the lid, but that worries me. Another option is to use one of the Klear Screen polishing clothes. (That's a solution I am comfortable with.) More on Klear Screen lower on this page.

I love the Other World Computing leather Laptop Screen Protector, the neat colored ones from Radtech, or the one the iKear folks sell. <!-Place the rough side down and it doesn't slide off while the smooth side protects your screen from dirt and scratches. I have the one for the Ti, which protects the screen from the trackpad clicker too. After placing it, I carefully closed my Ti, concerned about the protector's thickness as I don't want to stress the hinges. My worry was unfounded though: the leather is thinner than the little rubber spacer on the wrist rest. (Choose PowerBook Accessories to locate the info on these.)-->
Are the little bumps that separate your screen from your keyboard worn down? Do you not like the way the keys touch your screen? RadTech's Wildeepz Display Cushions are nice-looking plastic bumpers that give you back this protection. There's a size for the Ti and another for Al and iBook.
Security
No one wants a laptop stolen — and they are so easy for people to just pick up. A little bit of effort can save you a lot of misery and inconvenience.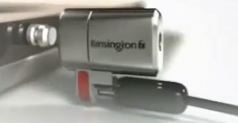 Kensington's ClickSafe (new in Nov 2010, $45) is the easiest-to-use security cable yet. With it, rather than have to put the lock into the security slot every time, you place a post into the slot. (Easy enough to remove if you don't want to use this lock any longer.) This way, to lock your Mac, you just push the lock onto the post. The mechanism looks rather large here, but it swivels easily and doesn't really impede use. The key is slim, small and light, not a bother on my key ring. The post conflicts with my Speck hard shell but that's workable with a file. (That's a Mac design issue but Kensington is looking into it.) The ClickSafe website explains the lock very well, so have a look.
Prior to the ClickSafe I used the Kensington Slim MicroSaver® Notebook Security Cable, but not so often. It lets you lock your PowerBook/iBook/MacBook to a table or such and won't scratch your case.
Comfort & Heat Dissipation
Laptops get hot. Some get very hot. My favorite solutions:
The RoadTools CoolPad ($19.95) or Podium CoolPad ($29.95) has been my faviorite go-to solution since it came out. The CoolPad does more than provide ventilation. They enable you to swivel (turn) your laptop sideways. Oh, one last great benefit is that the little rubber feet on the bottom of your laptop don't get to stick to your desk and get pulled off your beloved Mac. If you have a 15" or 17", get the Podium. It's elevation placement (the bumps) is better for them. (Shown here it is highly elevated but you control the height.) My regular CoolPad lives in my PowerBook case for travel and my Podium lives on my desk and gets carried around my home as I move between rooms with my Mac. You can also get the same CoolPads under the Targus name [Still my favorite as 2010 closes.]
The iRizer by Matias is a simple but flexible stand that I'm liking for use with a separate keyboard. It lets you lift your laptop's screen to a height that's better for both your posture and for when you're using a 2nd monitor and desktop spanning. (I use the 40-degree angle. If I didn't live in earthquake-land I might go for the 50-degree but that one scares me. (The keyboard I use for this is by Logitech. I like it because it's close to the feel of my Mac laptop keyboard, making it easy for me to go between the two. And I love having a number pad.)
Do you like to work with your laptop on your lap while you recline on a comfy couch? I do, for a good change from my desk. I've been on a search for a great lap desk for years. There are three worth considering:
Belkin's Cushtop ($34.99) Holding it different ways provides comfort options. Stash your power block and mouse inside.
Note: It's perfect out of the bag for the MacBook Air but the larger MacBook or MacBook Pro or older Alunimum bodies, slide off it too much. I found Radtech's Pawz ($7.95) to be my perfect solution. [Check out the matching Laptop Hideaway too.] [Nov 2010]
Brookstone's ePad Travel Laptop Desk ($39.95). [NOTE: They have changed this model. Mine has a round plastic top. I have not used the one that comes up in a search now. But here is what I though of the original.] I love the cushy bottom because I can even work cross-legged. (It's only uncomfortable in extreme summer heat.) I found it great for using the MacBook Air, but the lip doesn't stop the other unibody models from sliding off it due to their lower curve. From photos at Brookstone, it appears they kept this bar the same on newer models. Brookstone's PR person told me its textured surface strongly grips any laptop but that was absolutely not my experience, so again, I needed RadTech's Pawz. The new model is even smoother. I only tried the cushier one but am guessing I'd recommend the Travel model. I've used this for over a year as 2010 ends, and I still like it, finding I turned to it more than the others. I may be sorry it is gone. [Nov 2010]
Barnes & Nobel sells a laptop desk that is loved by an aluminum MacBook user. It's got a beanbag-type pillow bottom. I have not tried this with a MacBook Pro. It's by Artrends, and the current version sold is ISBN: 1591777429. Sold at other vendors too. [Nov 2010]
Laptop Desk by LapWorks. To original lap desk. It's hard plastic, not soft underneath, so you can't use it when wearing fine women's fabrics or stockings. As a solution for mouse users, there is an attachable mouse area. I'm not crazy about it but the makers have gotten good feedback about it from others. (The other items I list here don't have a mouse area.) It also folds to become a desktop stand that provides ventilation.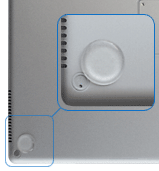 Tip:
Pawz — Radtech's high grip sticky feet prevent your laptop from sliding off any lap desk.
$7.95 gives you enough for more than 2 laptops.
I use a Speck hard shell and have them on the bottom of the shell.

Power Protection
Every computer you care about should be protected from electrical drops or surges. A surge can fry your hardware. A blackout can cost lost data. Inconsistent power shortens the life of your electrical devices. Power Strips are NOT surge protectors! They fall open in a surge and let the harmful power come at your precious hardware.Your computers and peripherals are too valuable not to protect them!
Since the early 90s, my Macs have plugged in to APC power devices — Back-UPS or SurgeArrest when in my office.
I love that if you phone APC and them and tell them what equipment you have, they give you excellent advice about what you should use and how to use it. For example, in 1994 they told me that my 1992 model HP4M laser printer should not be plugged into my Backup UPS becuase it would draw too much electricity and did not need back up energy in a black out. See how they do for you: call APC sales at 877-272-2722.
I have one of my family members using Belkin's Battery Backup with Surge Protection (550VA)
It is clear from this, and other new Belkin products, that their in-house design team, which formed several years ago now, are doing a great job. The flat wall plug swivels. Every outlet has a sliding cover, it's a cinch to remove the internal battery, and it just looks good. Comes with both Mac and Windows shut-down software. My family reports this as reliable. [updated 2010]
Belkin's Travel Surge Protector with Hidden Swivel Plug is my travel companion to provide lightweight power protection without power prongs that would poke through my carry cases. It's got protected and grounded lights, 2 outlets, phone protection (in case we fax?) and even finger-sized groves on each side so we can easily pull it from the wall. This lives in my laptop bag.


Cases
For years now, most of Apple's laptops (perhaps starting with the Titanium PowerBook) have been thin enough to in just about any briefcase. The 13" models actually fit in many woman's handbags. (The Air is a no-brainer on that.) So, you don't have to advertise that you're carrying around a computer. But you do want to protect your Mac. The popularity of laptops has brought us a huge number of laptop bag brands and options. I don't get to try every one but here are some that I have loved.
From the days of my Titanium PowerBook until the 15" Unibody, the bag I used most, and my choice was the Timbuk2 Commute bag. I love the design of their Commute bags: they take everything into account, and are open to ideas. The outside is water resistant and the inside is waterproof, with weather-proofing flaps to stop leaks inside. The inside is brightly colored so it's easier to find things inside it — a very nice feature. It truly has a large space inside to accommodate the things I need to carry — even when I've carried one of my own voluminous Office or GoLive Bibles. I also love the quick adjust strap.
When I first wrote this, I wrote: "I can see using this bag for a very long time. All of the Timbuk2 bags and pouches are well made." As it turned out, sadly, I could not continue using my beloved Commute bag because the 15"MacBook Pro Unibody model is just slightly wider, and the laptop compartment was so perfecty snug that the Unibody doesn't fit. (I also have the Speck shell adding a fraction, and then added the Kensington ClickSafe.) However, that's just my old bag. A new model bag will fit the new size Macs and I still highly recommend these bags, especially if you carry your bag in the rain. [2010]
For lighter use, when I didn't have extra things to carry, for many years, I loved tossing my PowerBook into Marware's SportFolio Neoprene case and running out the door. The handle is bouncy comfortable and the carry compartment is more like a sleeve than a briefcase, so it is not bulky. It's got outside pockets and an inside area, so your "Book can stay in one area, alone and without anything else slipping between the screen to tear it. However, the pockets cannot handle a lot of stuff. I could stash a mouse and power cord in one and my current magazines and CoolPad in the other. However, they look stupidly bumpy, and items have fallen out. Again, the 15" Unibody MacBook Pro ended the days of this bag's use. Even without the Speck shell, my bag it too tight width-wise to accomodate. If they now make a wider version, I'd say go for it.
Marware also has a "Deluxe" model that holds more, but I don't like it. It's double the weight, as heavy as the Timbuk2 bag and doesn't hold much. It's far less flexible than the Timbuk2 bag. It never became a favorite.
When I first glanced upon the STM Alley Laptop Shoulder Bag, sold by RadTech, I fell for it. What I love about this bag is thatit's positioned vertically, rather than horizontally. With my 15" Unibody and Speck shell, it sticks out at the top a bit so the flap covers but not as well as normal. (Perhaps these dimensions have changed or there is an updated version.) This is the bag I reach for when I go out with my MacBook Pro. [12/2010]
If you are using a Titanium PowerBook, place your Ti book HINGES UP when you carry it!
If it falls or is put down hard and the corner gets hit hard, you can wreck the hinge and you lose your monitor's light as well.
Upgrades...
Sometimes — not always — it pays to keep an older Mac up to date.
RAM
RAM will do wonders for you! It's very costly to buy from Apple, so take your Mac with its default RAM and buy 3rd party.
If you have a local Mac vendor you know to be reliable check there for your RAM specs and needs. I sometimes buy my RAM from my favorite local vendor (Mac Enthusiasts) because I trust them.
I also buy from Other World Computing, again because I trust them and because they make it simple to be certain you're buying the correct RAM, thanks to this OWC by-model look-up. The OWC sales team also know their stuff. In fact, when I wrote a feature on RAM for MacLIfe, OWC was very helpful.
I've bought Buffalo Techworks RAM from OWC and am very, very impressed by the fabulous Bruce in Techworks tech support. Techworks and their lifetime support is in Austin, Texas. (Note: my MacLife article, Jan 2008, was supposed to recommend Techworks but that got lost in a freak editing process. That article would never have been written without Bruce.)
I also use and can recommend Kingston RAM (and cards).
In the summer of 2007 I visited Kingston's Southern California factory and had a personal tour. (I was writing about RAM for MacLife magazine.) admittedly, I have not toured other RAM/memory plants, but I was very impressed by this factory. RAM cannot be handled and is very fragile, so the automation is amazing. The tiniest flaw and RAM doesn't function. If it's the smallest bit off in size, it doesn't work. Boy are they ever careful at Kingston!
If you want to learn about RAM, you can check out their Ultimate Memory Guide.
And, just in case you ned help or need them to replace RAM, they have tech support right there in So Cal.

Maintenance Stuff
Sometimes we need tools to help ourselves with a job. Mac/computer consultants sure do.
Hard Drive reading
Once in a while we have the task of transfering data from a dead Mac's drive to a new one. If we have a spare case, we can pull the drive, place it in the case, and connect it. But there's a more flexible, lower cost solution — raw cable connectors that plugs directly into any raw 2.5, 3.5, or 5.25" drive so you can power it up, plug in the USB cable, and get that data moved.
The one I got from Other World Computing for $25 when USB 2 was new was a USB 2.0 to IDE cable. Since that was ages ago, I did a search for "USB 2.0 to IDE cable" at OWC and found they have nice looking Newer Technology USB 2.0 Universal Drive Adapter. (OWC changes its URLs often so if this 2010 link fails, just land at the site and search for U2NV2SPATA.) [Nov 2010]
PowerBook & iBook servicing tools

Need to open an iBook or Aluminum PowerBook? Need to fix the hinger on a Titanium? You can go hunting for the right tools — or you can pick up a perfect, ready-made Glide set by RadTech. (I don't believe you can adjust a current MacBook or MacBook Pro.) [Nov 2010]
~ •~ • ~ •~ • ~ •~ • ~ •~ • ~ • ~ • ~ • ~ • ~ • ~ • ~ • ~ • ~
iMac stuff
Screen Protection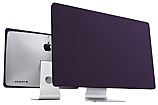 If you're worried about leaving your beautiful huge iMac screen vulnerable to things like playful pets or such, or if dirt and dust plague your office, you'll appreciate the nice-looking protective covers, iMac ScreensavRz by RadTech ($25.95 - $37.95). They come in several colors/patterns. They're a durable fabric with elastic that enables them to stretch over the screen and fit beautifully.
~ •~ • ~ •~ • ~ •~ • ~ •~ • ~ • ~ • ~ • ~ • ~ • ~ • ~ • ~ • ~
iPod Stuff
Earphones
When I first heard my favorite music on my first iPod I heard a whole new presence in it.
Then with Future Sonics Ears, I discovered even more! It's the difference between just listening and really hearing every note, effect and nuance. Future Sonics makes ear sets for many a major musician. (I took this photo of Jackson Brown with his before he performed at NAMM 2004.) They also make home user versions. Check them out.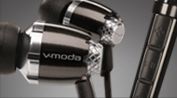 The next ear phones I fell in love with are the Vibe by V-Moda. (I don't like their webiste though.) Of all the ear phones I tried, these are the ones that feel right in my ears, stay in, and sound right to me. I've had a few versions since 2007 and loved them all. Pictured is a new one.
Note: Music is subjective and I don't have a good ear for it, so remember that it's what sounds good to you that counts. [Nov 2010]
Cases [updated Nov 2010]
For Mac, iPhone, and iPad cases, I look to Speck, ifrongz, and RadTech. Based on 2003-2007 performance, I'd also look at Marware.
For kids, I feel safest with Speck's Toughskin or anything by. (When the iPod video came out, the Tadpole was terrific when handing your iPod over to a kid to watch a video!)
For my first iPod, the original 10gig, I used a $39 Marware SportSuit™ Convertible case and would not let it leave my home without it. It had the best padding/protection I've seen for an iPod case. I didn't cry if I dropped that iPod in it. I think the SportSuits don't have as much padding now, but check them out for yourself. I remain a fan of Marware but have not seen what is new in their line since 2008.
iPod Batteries
Batteries don't last forever so what can you do when your iPod batttery stops delivering hours of musical enjoyent?

When this happened to me with my 1st iPod, the first 10 gig, I got a Newer Technology battery from Other World Computing. That was some years ago. It added a lot more battery time and that iPod still works perfectly well. It came wtih the tools for opening your iPod and the directions for doing the swap are online, right at the battery info page so you can check them out before you dive in. I still use that iPod. [Nov 2010]

I also trust iPod replacement batteries from fastmac.
(I've used their batteries for my laptops.) [Nov 2010]
---
Where to Buy?
People ask me where they should buy hardware or software. I can't know every vendor and every experience so please don't take this as the authority. Ask friends, at user groups, at clubs, on email lists, etc. That said, and with the understanding that I take no responsibility for your purchasing experience (whether positive or negative), here are my favorites.
First and foremost, if you have a local vendor you like and believe in, consider starting there. Fellow user group folks are always happy to share good experiences. (They'll also tell you who to stay away from.) I know... you have to pay tax. Ask yourself if you want to see that vendor go out of business. Weigh the options. Los Angeles area people: over the years I've enjoyed a good relationship with MacEnthusiasts, in West LA, some of my friends run to MacHollywood, while people in the Pasadena area rave about Di-No Computers.

DealMac is the place to discover some of the best deals on anythikng Mac. They don't sell; they simply track and report the best deals they can find. Sign up for the daily newsletter. It's the best way to receive breaking news on price drops for Macs, Mac hardware, RAM, digital cameras, and more. (There's also DealRam, DealCam, DealNews, and DealCoupon.)
Sometimes you'll discover a great deal from the manufacturer's own site.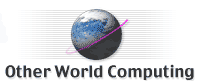 WhenI buying online an easy vendor to start at is Other World Computing. I love the way their site is set up for find hard drives and accessories by model. No guesswork. Excellent phone support whenever I've wanted confirmation, and a very clear shipping pricing. I've also have excellent experiences with their RAM. And thankfully, they MacAlly products!
Tips for Tech Support
In order to meet the demand of around-the-clock tech support and yet not drive our purchase price through the roof, some companies outsource their after-local-hours support to other countries.
For the best chance of getting in-house support — for example North American people for a North American company — call during their normal business hours. This is the case for me with Comcast and I believe it's the case with Belkin.
If you call after hours and get a person in a culture you can't get your help from, try again. I was once ready to tear my hair out with Netgear's Indian support so I hung up and got a great person in the Phillipines 3 minutes later.
If the out-sourced help didn't work for you let the company know. There are plenty of options and they may be willing to try another if they know one isn't working.
Want the best support? Know your problem and be ready to describe it fully. Be ready to state (1) what the problem is, (2) what your hardware/software is, (3) what you may have done to cause it, such as recent additions/changes to your system, and (4) what you have done to try to fix it.