Profiles
Macsimum News • AUGmentations • LAMG 1998
Macsimum News:
Real People Interview: Deb Shadovitz talks
Posted on Nov 15, 2005 at 3:15am by Daniel East. On the web here.
Demystifying "Deb"...
In June 2005 I was the personality featured in AUGmentations — the newsletter of The Apple Groups Team (TAGteam). The feature is not reprinted here. Instead, it's available as a pdf from the TAGteam site.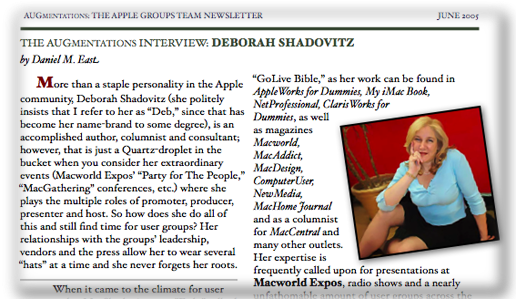 [The TAGteam is a great resource for Mac User Group leaders and membership is free.]
LAMG Member Profile:
Deborah Shadovitz — A Mac Specialist
By Robin Joy Davidman • Photo by Reed Hutchinson ©1998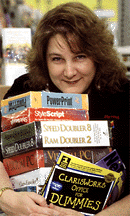 LAMG member Deborah Shadovitz wears a number of career hats where the Mac is concerned. From consulting, to writing, to training, to desktop publishing, Deb has built a successful career thanks to Macintosh!
Deborah was born in New York City and grew up on Long Island. She earned her college degree in Communications with an A/V minor at SUNY, College at Oswego. The first entry on Deborah's professional résumé was video production. "I was a broadcasting engineer and production assistant in New York City, Connecticut, and New Jersey."
Between her video production career in New York and coming to Los Angeles, Deb spent three years backpacking around the world. "I bought a backpack and a one way ticket to London. For a while I had a writing job in London and did a bit with video, but I gave that up to travel. I spent three years going wherever I felt sounded interesting, visiting people I met on the road, and setting up homes or home-bases along the way."
Deb moved to California in 1988. "I've been living in Los Angeles, near the Hancock Park/Fairfax area for four years now. Prior to that I lived in San Diego, Orange County, and Long Beach."
The Macintosh has served as the basis of Deborah's income since she bought her first one in February 1989. Her career path took an exiting turn thanks to her Mac. "I got excited about the Mac for what it could do with video but got side-tracked. When I first got into the Mac, I made my living doing desktop publishing and word-processing. As that became more common, I moved on to what I do now. At one point, I created FileMaker Pro databases, including two for Federal Express, but I've decided not to focus on databases in favor of writing. In the greater scheme of things, you might call me a Mac Specialist. I am self-employed—sometimes as a trainer, other times as a consultant or trouble-shooter. I am also an author—writing software manuals, magazine articles, or books. Vendors come to me for beta testing and input as well. From time to time, I still create fliers."
Deborah's initial Macintosh purchase was a used Mac II with a 1200 bps modem. "I owned a DOS-based Sharp laptop when I was hired to sell computers. Sales tracking was done in Excel on the Mac so I had to start using one. At first it felt odd to use the mouse, but I got used to it. Then a Microsoft sales representative showed me Windows 286. I was impressed—until he left and I tried it on my own. That was a turning point. Soon after, an Aldus representative showed me Aldus FreeHand, and I attended a trade show where I saw how the Mac could be used in video, for editing and as a switcher. I was so enamored by the Mac's capabilities that it disappointed me to sell anything but Macs (although some people felt they needed DOS), and I was envious of those I sold Macs to. I had to have my own Mac!"
Working in sales enabled Deb to receive intensive computer hardware and software training. "As I was selling computers, I went through official training programs by Apple, Compaq, and IBM computers and for Tektronix and HP printers. This taught me features and use. Since our store sold training, I sat in on one PageMaker training class. Additionally, vendors did demos in order for the sales team to sell the software. Since that initial introduction back in 1989, I have been self-taught—with the help of fellow LAMG members at SIG and general meetings. As a software reviewer, beta-tester, technical writer, and consultant, I enjoy the benefit of being able to go straight to the programmers for answers to the deeper questions that arise."
Deborah's primary Mac is Power Mac 7600/120 with 80 MB of RAM and a Newer Technologies G3 upgrade. She has two monitors—a 17" Apple MultiScan and a 14" Apple Color High Resolution, the second, thanks to a PCI card purchased via the LAMG BBS. Her other peripherals include an external APS hard drive, a Zip, and a 2GB Jaz drive. For printing, Deborah has a Hewlett Packard LaserJet 4M and an Apple StyleWriter 2500. "Both printers are connected via LocalTalk. Due to lack of space, my Microtech scanners sits high on a shelf, unconnected. My newest addition is a 6100, which awaits the upcoming Newer Technologies G3 card. I also have a second Zip I take with me to every job. The Jaz is often brought along as well."
Deborah is partial to a number of commercial software programs. "I use ClarisWorks 5, Office 98, and FileMaker Pro for everyday productivity. For book and magazine illustrations, I use Adobe Illustrator and Adobe Photoshop. I like Mainstay's Captivate for screen shots. For security, I rely on PowerOn Software's On Guard, and. PowerOn's Action Utilities provides can't-live-without for enhanced Finder abilities. Claris Organizer is my choice for contact management, and Claris Emailer is my favorite for e-mail management. For web visits, I use both Netscape Navigator and Internet Explorer in conjunction with Connectix' Surf Express. My maintenance utilities are Hard Disk ToolKit, Norton Disk Doctor, and TechTool Pro. I use GoLive's Cyberstudio to create web sites and Netopia's Timbuktu to control my web server (which runs on WebSTAR)."
"My other don't-want-to-live-without utilities are: Connectix' RAM Doubler and Speed Doubler; DiamondSoft's Font Reserve (to handle my fonts); MVP Solutions' Retrieve It!; Aladdin's StuffIt Deluxe; InfoWave's StyleScript (for EPS printing to color inkjet); Casady & Greene's Spell Catcher (the shorthand glossary saves my fingers) and Conflict Catcher, and Dantz' Retrospect Remote. When I need to run Windows I call upon Connectix' Virtual PC." For shareware and freeware, Deborah likes PopChar, Disinfectant, TechTool, and CMTools.
Dating back to the days of her 1200 bps modem, Deb has been firing up her modem and going online. "In the earliest days I did Prodigy demos in stores so I've had that account. At one point I tried AOL. Ultimately I prefer Internet access unadulterated so I go straight to the source via Westworld Global Network, a local ISP. For community-based information and such, I use the LAMG BBS. I love the Internet, but it will never totally replace the LAMG's BBS."
There is no such thing as a typical work day for Deborah. "It depends upon my current project—sometimes I am writing all day, while other days I am on-site somewhere training people. When training, the setup and needs of the client determine the day. When writing, the schedule or my ability to reach programmers, etc., determines it. There are some common elements though. The first thing I do each day is turn on my Mac, then shower and dress as it starts. E-mail check comes next, and the messages I receive may define my day. My Mac is about ten feet from my kitchen, but it's not uncommon for me to become so wrapped up in work that I don't stop to eat until late afternoon. Most days, I receive about three calls from LAMG members seeking help. I do my best to help…and feel terrible when I'm too busy!"
"What I love about being self-employed is I can work all night if I need to freeing up my days. There is always a way to find an hour or two for my nephews (age three and five).
Deb enjoys a number of interests. "Travel is a passion, but since settling in California, I've been building my career and have severely curbed that ability. I frequently enjoy the company of friends I made during my travels. or visits from their friends. I loved bicycling while bicycling around the Eastern US or Europe; L.A. lacks the mix of public transit, small towns, and cities that made bike adventures possible, warm, exciting, and fun."
"I love to read and welcome many books regardless of genre, enjoy live theater, and learning—watching others do what they are best at or hearing them speak of it. I adore my nephews and friends' kids, playing and hearing what they've been up to is a pleasure."
In offering advice to those who desire a similar career, Deborah imparts, "Basically the best advice I can give is learn by doing. If you want to be a software trainer, decide which software you are most comfortable with, then learn it inside out. Once you begin training, watch and listen closely to those you train; they may say they understand, but it's up to you to know they really understand. Remember, you are not out to impress them with your knowledge but to make them comfortable in their own understanding. Come to think of it, that's advice that holds for any career and in life generally."
Deborah's long-range goals played into her career decisions. "I've set up my career so it could co-exist with my dream of family and parenthood. At this point, I am focusing on writing and leading seminars although I want to continue doing business training."
One can be sure that LAMG member and Mac Specialist Deborah Shadovitz will continue to travel far and wide, and it's a safe bet a Mac will be by her side!
This profile was written for the LAMG Digest, a publication of the original LAMG.
I am in no way affiliated with the person who purchased the LAMG name.