Travel Photos — India
Upon arrival in Bombay, I hit the heart of monsoon season, despite my attempt not to. You just can't schedule monsoons. The railways to the south were flooded so I headed north.

This was taken during a camel trek in the Rajasthan desert. There were 5 of us with 3 escorts. We left out of Jodhpur, a beautiful city of sandstone buildings.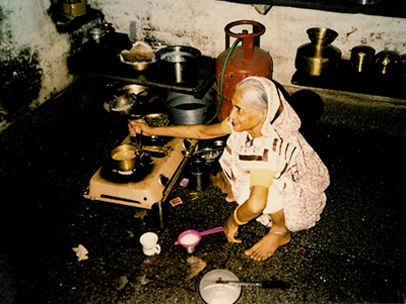 I'd met a nice man in one city and he brought me to meet family and friends. His best friend was married to a woman whose family lived up north. They invited me to visit.

The entire extended family lived under one roof in a 3 storey home. The woman's mother cooked dinner for all of us. It amazed me what she came up with from just what you see here. No 'fridge. No fancy stove, oven, or cooker.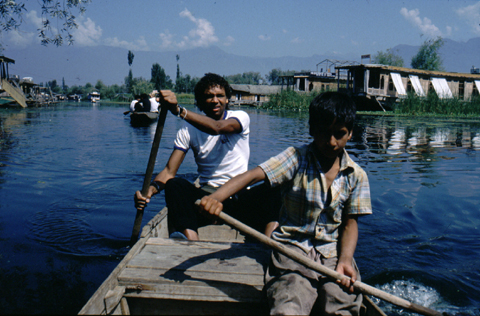 Midway through my time in India I met up again (by a series of coincidences) with my now good friend Gary, aka Gary B. Hudson, who I first met in the Pudding Shop in Istanbul.

After obtaining our permits to travel through a "war zone", we headed up through the Punjab, then into Srinigar where we spent a while living on a houseboat on one of the lakes. The only way on and off the houseboat is by boat. Seated in front is the driver of this cab, but Gary always plays an active role in life wherever he is.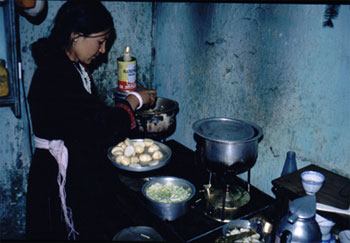 From Srinigar we flew to Tiksee. We'd heard the bus ride over the winding Himalayan roads was dangerous and could sometimes take days if the bus had to stop for an army convoy. I didn't usually take the easy way out of things, but I did in this case.
Tiksee, a village in Ledak, is technically in India, but it's a Tibetan village. It's nestled in the Indian side of the Himalayas. Tiksee had just opened up to foreigners when we visited.
Arriving in Tiksee, Gary and I walked the village and its outskirts seeking a guesthouse or room that would be most like living there. We had a small room in this beautiful woman's house. Water, carried from a milk truck on her shoulders, was used sparingly when we bathed.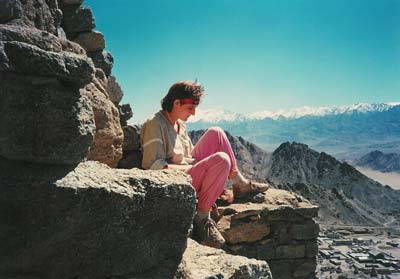 Gary took this photo of me as I relaxed in the Himalayas, looking down at Ledak.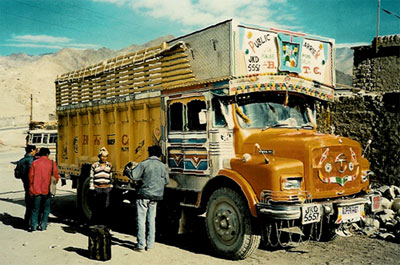 Ever wonder if trucks look any different away from your hometown?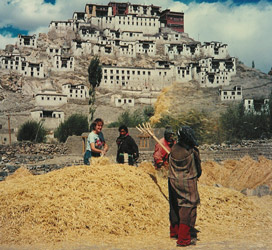 A bus ride outside of Tiksee is a Gompa, (monastery) for the Tibetan monks of the area.
Walking toward it we noticed this small family preparing their wheat. Just as I though about how much nicer it would be to join them, Gary jumped the stone wall, grabbed a rake, and joined their song.
Turned out, the man whose back is to you here was the local school teacher and spoke a bit of English. Very rare for this area at the time.
Here, I am separating the wheat from the stalks by throwing it into the air with wide wooden rakes. After a bit of work we shared their Chang, a thick ale of sorts.
We did eventually
get up to that
Gompa — I think.
If not, these next two shots are of another Gompa.

 

Here's a bit more of our village to village wandering.
Gary stopped to talk to some kids.
Of course, they didn't understand a word he said, but it's still fun to meet people.
Here's a pretty typical street scene back in an Indian city.

I don't recall which city this was, but this is the view from our hotel room window.

     And this was an interesting barber shop.

Gary and I also visited Vanaress, aka Varanessi,
on the Ganges as we headed north to Nepal.

This picture
was taken
at our
traveller's
hotel there.

The ceramic
jug behind
us is the drinking
water.

There was a nice boy who hung around our hotel who earned money helping travelers. We liked him and with his help got permission to photograph a funeral at the burning ghats. We awoke before sunrise and rented a boat ride. I promised not to publish the funeral shots, but here's the view of the bathing ghats from the water and then a couple of shots from the land.
    


This classic woman
was also in Varanessi.
A special note from me
Gary, aka Gary B. Hudson will be writing about his travels through India in the second book of his travel trilogy. Funny, knowing a friend will be writing about me. Wait'll you see this look at what I was like on the road. Gary's first book, The Soul of Adventure, is excellent.
All photos on this page are © Deborah Shadovitz 1987.
They may not be used without written permission.