About LA!
Granted, compared to the history of the world, LA isn't exactly an old city, but it does have a bit of interesting history.
At least 6,000 years before the first white men arrived in Southern California, the Native Americans lived here. For example, what is now Carson was the Suangna (or Tongva) village. In 1784, the village became part of the Rancho San Pedro. You can learn all about this particular village at Carson's website.
Los Angeles, the second civilian settlement in what was known as Upper California, began its westernized life with the dedication of El Pueblo de Nuestra Senora de los Angeles, which means Town of Our Lady of the Angels, on September 4, 1781.
It was the project of Governor Felipe de Neve — mandated by King Carlos III of Spain. He called for 24 volunteer families to come from Mexico; he convinced 11. The city was built inland on the river, rather than by the ocean where it could be open to attack. It was Spanish-style: a rectangle consisting of a city plaza, guardhouse, town house, and granary. The families received lots to build on and farm, and were given such benefits as tax exemption and tools.
Today the oldest existing residence in the city is the Avila Adobe, built in 1818 by rancher Don Francisco Avila. The area is now called El Pueblo de Los Angeles Historic Park. It's located between Alameda, Arcadia, Spring, and Macy Streets, across from Union Station. Unfortunately, this "historic park" is now a shopping area. Very little to see and learn.
Union Station, however, is a beautiful train station worth a look.
---
Southern California was populated by vast Ranchos. Rancho San Pedro, now Dominguez Ranch began its western history in 1784 as a gift of 75,000 acres of land to a Spanish soldier called Juan Jose Dominguez. Such huge land grants were common at the time. This grant included what is now Torrance, Carson, Redondo Beach, and the LA Harbor. The Dominguez family home was a 6 room adobe ranch home, still standing atop Dominguez Hills after 170 years, thanks to its two-foot thick walls, heavy timbers and a flat, tarred roof. You can visit this home (California Historical Landmark No. 152), located in what is now 18127 Alameda Street, in Carson.
Don Manuel Dominguez held public office under both the Mexican and US governments. When the railroad came to LA, between LA and the harbor in 1869, Dominguez donated some of his land to the project.
---
One of So Cal's oldest structures (if it's still standing) is the Gilmore Adobe built in 1852. It had two rooms with packed dirt floors and a brea roof from the La Brea Tar Pits. In 1880 Arthur Fremont Gilmore bought the house when he moved to LA from Illinois. He added a living room, wood floors and a shingle roof. Over the years he added plumbing and electricity. His son, Earl Bell Gilmore, was born there in 1887 and lived there until his death (1964). In 1976, Earl's widow relocated the AF Gilmore Co's corporate headquarters into the Adobe. (They were still there in 1998, but I am not certain which building it is. I do know the Gilmore Bank, which is on the property.)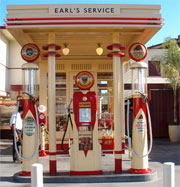 Arthur was a successful dairy farmer drilling for water in 1901. Instead, he struck oil and formed the Gilmore Oil Company which became the largest oil company in the west.
In 1936 Earl invented "Gas-a-terias" — the first self-serve gas stations. New in 2004, is this replica at the Farmer's Market.
In another first, Earl was one of the first to use radio and jingles for promotion. The Gilmore land became the site of the first race car track designed for midget racers. (On the first Saturday in June, the Farmer's Market always hosts the Annual Gilmore Heritage Auto Show, which honors the "Golden age" of racing and the first petroleum marketing.)
Later came Gilmore Stadium, the first pro football team in LA.
Today we know the land as the home of the Farmer's Market. That's because Roger Dahlhjelm and Fred Beck, entrepreneurs trying to make the best of the Depression, approached Earl with their idea for the Market. It opened in July 1934. The Farmer's Market — at 3rd & Fairfax — became a major landmark as well as a fun place to shop, eat, or hang out. The Farmers Market Office is even the place to get tickets to TV shows taped at CBS Studios (such as "Price is Right" ). In the past couple of years the property took another major turn, becoming (what else?) a shopping mall. What was a vast parking lot is now The Grove, an upscale mall with a tram running through it. But it's a nice, outdoor mall with plenty of free music events, a fun musical fountain with dancing water — and a 2-story Apple Store. It's actually a feel-good place to hang out on a warm day or evening. And kids do love riding that pretty tram.
Hollywood
Hollywood, one community within LA, is 18.7 square miles in size. It was founded as part of a residential development in 1888 by Harvey Henderson Wilcox and his wife, Daeida, who picked the name. The Hollywood Sign — which originally said Hollywoodland — appeared in 1923. Another landmark of Hollywood is the Walk of Fame, those famous stars on the sidewalk.
Enough LA history from me. There's a better source.
LA: Past, Present & Future utilitzes "the extensive archival resources available at the University of Southern California" and includes a searchable database. (It was created by the late Dennis Thomison, a Reference Librarian at the University of Southern California and is dedicated to his memory.) It's incredibly complete! Photos, landmarks, scandals, and more.
---
Other cities & histories
The Environment
Some people get hurricanes or tornados. We get to shake up our lives ones in a when the ground tosses us around a bit. You can catch up on earthquake facts the U.S. Geological Survey Pasadena Office. They also collect our experiences there, too, if we report them over the web.
When I heard LA actually had a river I was surprised, but not as much so as when I saw the dry cement-lined river bed. For a more complete river experience check out the LA school's virtual river tour. (There really is water in the river - sometimes.
Need a trip to the beach? How about a view from the cameras at Venice Beach or the Santa Monica Pier?
Enjoy some panoramic views of LA.
LA Media
Radio
Newspapers
TV stations in LA
California State Website
Since LA is actually part of the entire state of California (although some might prefer it not to be), here's the official California website.
Disclaimer: I've visited and used these links & and am happy to recommend them. However, I am in no way responsible for their content and cannot be held responsible for the results of your experiences with them.
LosAngelesAreaLife.com
In addition to this Los Angeles section, I have an entire website, called LosAngelesAreaLife.com.