Photos
— Just me & my friends
A few photos. (As I've edited this page, I realized that nearly everyone here, and in my life, uses a Mac.)
First, some silliness. Meet my roommates...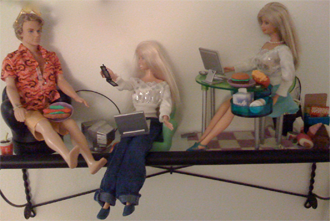 Hacker Barbie (well, Working Woman Barbie), her pal & guy live in a loft in my living room. (Still need a 2nd guy - a kharma thing.)

The gals typically wear jeans & comfy shoes enjoying fun skirts too. Ken is clothing-challenged. They eat burgers and fries, cookie dough w/milk, drink coffee, and love ice cream, dim sum, and sushi.
They have 4 Macs, 1 PC, 2 cell phones. They collect tech stuff & food, lusting after the "Secret Messages Computer Center." Still no iPods or iPhone. She says: "Going to work is fun," "I have email," "I have a call." To be balanced, "I must get ready for my date with Ken."
Friends 2010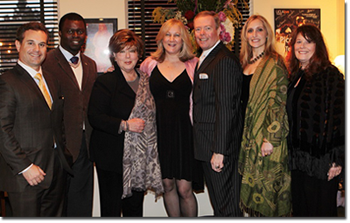 A night for formality: some of the steering committe for an
ICRF (Israel Cancer Research Fund) fund-raiser.
White Water Rafting on California's Kern River!


I'd wanted to go white water rafting since I was about 20 years old, so this trip was long overdue! But when I finally got to go, I did it well. The Kern River, I learned, is one of the best rafting rivers — and the company I went with,
Kern River Tours, is fabulous
. Kenny, the owner is a Kernville native and a long-time rafting guide. Our trip guides were terrific too.
This was such fun! I never fell out of the boat, but I fell
into
it several times, then laughed so hard I couldn't get back up on the sides to paddle through.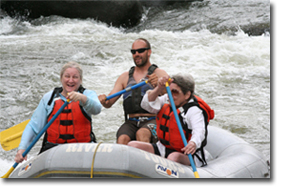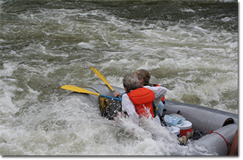 Macworld Expo '09
On Monday night, before the expo even really began, Andy Ihnatko and I got our traditional Macworld Expo photo. Ilene Hoffman and Chris Breen were there too, so we got a first — a pic of all of us.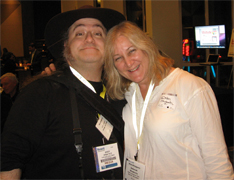 I got to spend some time with User Group guru Tom Piper at the User Group party Monday night.
Later in the week, I hung out with Sinbad at a party & concert. (Sinbad's brillant and funny, and also an Apple-stuff geek.)
Then we got Dave Marra to come hang with us!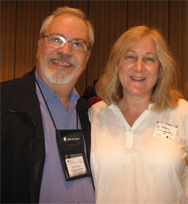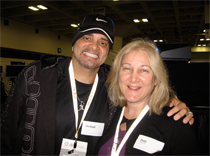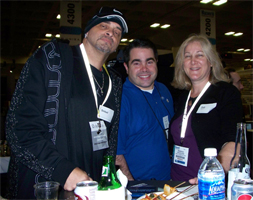 There are more photos, of my MacMingle during Macworld Expo 2009 at:
MacMeetAndMingle.com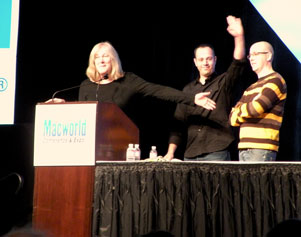 I am proud to have helped producers Ron and Kobi Shely bring their World Premiere of MacHEADS The Movie to Macworld Expo.
I had the honor of introducing Ron and Kobi on stage before the screening.
Afterward our new friend Ala'a all took some commerative photos for us. (Ala'a comes to Macworld Expo from Kaiwait where he and his father owned the first two Macs there. So cool! I had to have a photo of myself with him.)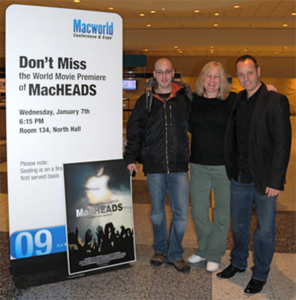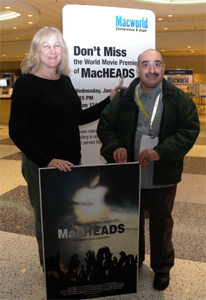 Friends '06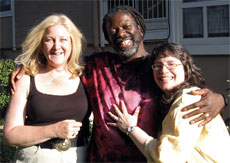 Me (Deb) with fellow Mac pals,
Michael McCarty
and Elena-Beth Kaye.
Hanging with two great guys: met-in-Turkey pal, author Gary B. Hudson and Michael.
(Yes, my face is red. A summer sun-burn. Can't be helped. Long story.)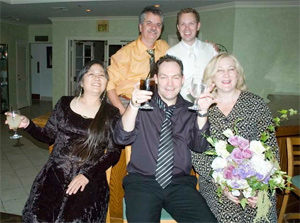 The internet is truly amazing.
Prior to using GoLive I didn't know any of these folks.
While I was writing the GoLive Bible, I called upon some of the best GoLive minds for help/contributions, and the result was that some of us became great friends (although we live in several counties and states). In 2006 a few of us got together for our friend Jeep's wedding. Jeep's the guy in the white.
Friends '06: The MacGathering™ & After

Mark Hartman and Robin Schiff help man the check-in desk while I check in speaker James Alguire. (There are lots of Macs at this desk, along with our trusty Epson printer.)


KNX Radio's Computer News expert Jeff Levy and I show off some of Jeff's first official Apple swag — gifts from Apple as a thank you for doing the MacGathering™ 2006 Keynote. "You guys had it right all along," he told us.

René Auberjonois, a heckofa great sport for playing game show host for the 1st Annual Mac Jeopardy game at the 3rd Annual MacGathering™. (He'll be doing this for us again in LA next spring.)


Author Shelly Brisbin

and

iProng Editor Bill Palmer

hung around to enjoy LA

for a while after the MacGathering.

Of course I had to take them to lunch at Roscoe's for Chicken & Waffles.
Friends '05

Elena-Beth Kaye, me, Pam (a NY Mac friend) at Michael McCarty's annual 1-1 party.

I got quite sunburned the day before!



A visit with friend and artist, René Auberjonois. (If René looks familiar to you it's because you watched Benson or Deep Space Nine, caught him in one of many other appearances, saw him on Broadway, or currently see him on Boston Legal.)

 

Mac Geek Extraordinaire, Sinbad, talking with me and PR maven Joyce Schwarz, after his Keynote at the 2nd Annual MacGathering™.
Macworld Expo SF 2006

Hanging out after the keynote friends and I ran into Herbie Hancock so Herbie and I reminisced about our old MacFair LA days and about Herbie playing at my MacGathering™ some time. (He was in Paris during our 2006 MacGathering™ though.)


Would you believe I'm simply very, very popular?

Truth is, the crowd is the scene at the 2006 Party For The People, the party I produce during Macworld Expo.

Macworld Expo SF 2005

Kurt Christensen, founder of [the once great] VersionTracker.com. I've been Kurt's fan since the very early VT days.

I finally met the brilliant Allan Watson when he worked the Microsoft booth at Macworld Expo 2005.
Macworld Expo SF 2004

This is me
with
Mark Dwight, the great mind behind
Timbuk2 Designs
and
its amazing bags.


Evening mail check at the hotel.
L-R: Shelly Brisbin, Scott Immerman, Mario Salinas, Mark Hartman. And that's my own TiBook on my lap in front.


The traditional pic of me and Andy Ihnatko
Friends '03/'04

L-R: Mario Salinas, me, Daniel M. East, Scott Immerman

At NAMM 2004, THE music industry show.
So many Mac users there!



This is me with my pal

Anton Anderson

.

I first met Anton when he helped Apple at their trade show booths back in '94.

This is my friend Robin. She's a graphic artist & magazine Art Director. We met at our local Mac User Group in 1995 and have been great friends ever since.

Cathy Scrivnor!

My friend, researcher & sanity-keeper.

Angela,

Elena-Beth Kaye

, me, Marva — longtime friends

July 3, 2004 at

Michael McCarty's

Some GoLive friends, 7/12/04: That's David Portela choking Jeep and Steven Shmerler sitting in front of me. Steven & I met when he taught a trade show web seminar. David & I met on a GoLive Advisory board. Jeep & I met when I roped him into helping with my GoLive Bible.

Michael McCarty

on one of our regular lunch dates. Amazing guy. Amazing StoryTeller.
Sailing 2004

Soaked after a day of rain!

L-R: me, cousin Caleb, Delia Salinas.
Taken by Paul after our ocean sail.

Sailing on a rainy day in San Diego.
Paul Taylor, Mac Hints & Tips site author, is also an experienced sailor so I finally got out there with him.
We knew rain was coming but I still said lets sail into the ocean. I forgot how far the ocean was from that harbor — and how cold ran can be!
The skys only look blue here.
No photo here may be used by anyone elsewhere without written permission.