The Party For The People
Macworld Expo 2004 saw my first Party For The People: a party where everyone was welcome, no one had to worry about landing an invitation, and people held real converstations without stepping outside and freezing. Now it's time for the next party thanks to our great sponsors.
The 2005 Banner:
To let people know about the party and to thank the sponsors, a 12x3 banner will hang in the entry of the Parc55, then moved up to the lounge for the party.

This banner is likely to be different from any other banner you've seen so far. It's a photographic process, an impressive new technology, printed by MasterpieceCanvas.com.
Sponsors are also invited to take advantage of a very special pricing offer for their own banners.
---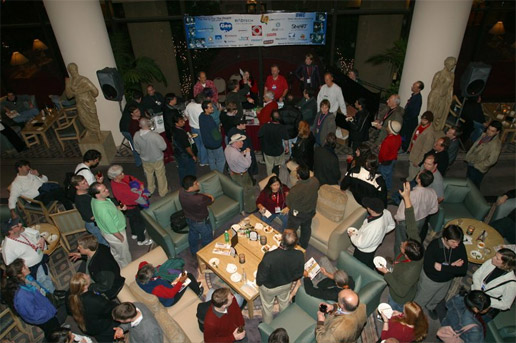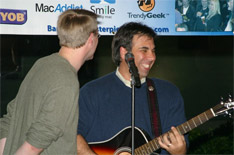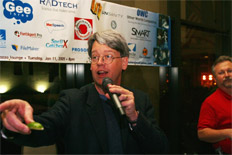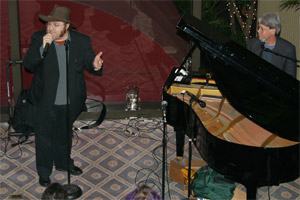 ---
The Announcement:
Each Sponsor's booth will sport a party notice and we'll have hand-out "invitations" too, to help everyone find the party.
---
The Press Release
12/29/04
Looking into Macworld Expo parties to make your expo experience fuller?
Wondering if you'll be able to obtain any coveted tickets?
Thinking of coming to the expo but worry that you don't know anyone yet?
Coming but not sure what you'll do in the evenings?
Author Deb Shadovitz,
with the help of some really cool vendors have a great party for you...
The 2nd Annual Party For The People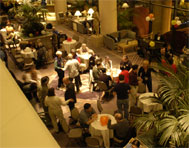 On Tuesday, January 11 2005, the first night of the show, starting at 8pm we'll hold our second annual organized hang-out in the elegant, yet cozy Piazza Lounge of our hotel.
It's a chance for you — whether old-timer or first-timer — to get to know fellow attendees, meet vendors on a non-business level, meet some of your favorite Mac authors, and become more connected to the Mac community.
Come mingle with some of the authors whose words have helped you with your Mac over the years. It's a great opportunity to meet authors such as Shelly Brisbin (your co-hostess for the evening), Randy Singer (legal guru), Scott Knaster (iPod expert), Daniel M. East (MacDesign), Benjamin Levisay (font geek), Dan Frakes (MacFixIt), Jeff Carlson (TidBits), Peter Cohen (game pro). And Deb, your hostess, of course.
We also have a lot of non-loud, acoustic music for you. All by Mac folks. Early in the evening, Chris Breen (of Playlistmag.com and Macworld) has promised to "noodle on the house piano in a non-offensive way." He'll also be joined by Paul Kent (yes, the guy who sets up your expo conference sessions) and Dave Hamilton (the Macobserver). Later on Andy Ihnatko (the Chicago Sun Times and Macworld) will sing a few of his classic numbers by the piano. We'll also have the left coast neo-celtic folk music of Elisa Welch (formerly of MacUser) on piano or mandolin. We'll also hear Jeannie Novak, fresh from her all-day Macworld Expo workshop as she plays and sings original material — and improvises. :)

What about food and drinks, you ask? Don't come without having dinner first, but we'll serve some hot hors d'oeuvres throughout the evening. The lounge's bar will be staffed for a no-host bar that includes drink specials so you can enjoy fun drinks at great prices.
It's also a chance to test your Mac industry knowledge in a trivia contest complete with prizes. (Tip: get to know our sponsor's products.)
So far we have these fabulous folks helping make this a reality, adding to our trivia contest, coming to meet you, and feeding you.
With special thanks to MasterpieceCanvas.com for the party banner.
Party Summary
Here's the recap for you to cut, paste, and bring to San Francisco. You can also see the announcement at any of our sponsor's booths or at http://www.shadovitz.com.
What:
The Party For The People
Produced by Deb Shadovitz with the help of friends
Thanks to some cool vendors
Where:
A hotel lounge in San Francisco, CA
When:
Tuesday, January 11th, 2005 from 8pm until you cry uncle.
Why:
Because there's just not enough time in a week of exhibit hours to meet and socialize with so many cool vendor folks, attendees, Mac authors, and fellow attendees.
Admission:
Just show up wearing your Macworld badge.
Details:
Cash bar with drink specials, hot hors d'oeuvres throughout the evening as long as they last.
---
Other Macworld Expo events
Want to know about other events happening at Macworld Expo? You'll find it all listed at Ilene Hoffman's Hess Events List.