Hi. I'm Deborah Shadovitz. Friends, clients, fellow travelers, and readers call me Deb.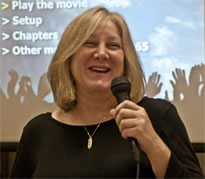 Follow @DebShadovitz
If you're interested in my travels, read my blog,
Tales Of Travel And Tech
Now being called...
Don't Fear Travel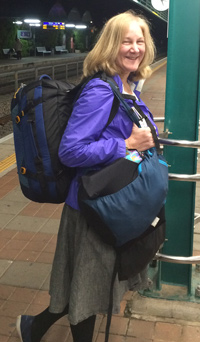 Friends always teased, "Deb's out to change the world" — and it's true.
I share Macintosh and Web skills— making computers easy for people so they can achieve what they seek to achieve. (Mac since 1989, web since the web started.)
I open the possibilities of world travel to people — because true travel connects you to the world spiritually and intellectually in ways that nothing else can! I particullary love helping women over 40 go traveling.
Quick summary:


Always a writer and communicator personally and professionally, I left NYC and became a solo world traveller for 3 years turning 30 in Hong Kong in the time before pagers. As I traveled and upon return I did some professional travel writing. Soon after, I became one of the world renowned Macintosh and then Web writers/speakers. After many years of this, although still loving tech, I started moving back into travel and lifestyle writing. Then events became opportunities for my life to include full-time travel. I've been living travel since 2011, working from wherever I am, living wherever I want or wherever a writing opportunity presents itself.
My travels...
In my 20s, I traveled the world solo for 3 years, living out of a backpack learning about other people's lives and cultures.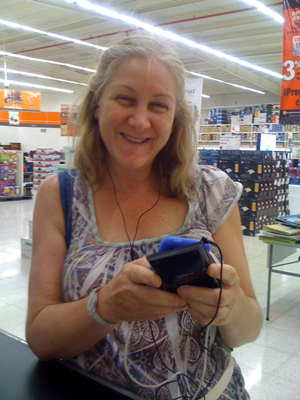 In 2011, I donned my backpack and took up solo traveling again. Unlike Travel Hackers or most travel bloggers, I don't count countries. Actually, I don't count. I live. I experience. I share with those who share with me.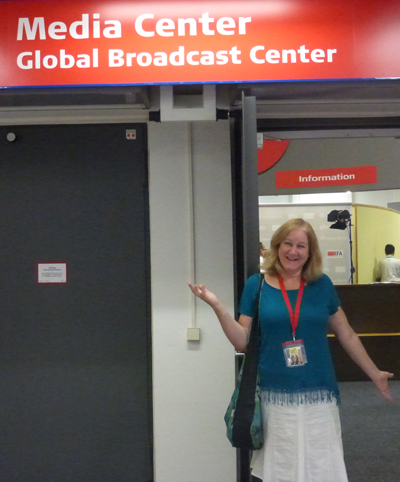 Central America from the Yucatan to Panama — very little "ground" to cover in an entire year. Bits of Eastern Europe. The coast of the Adriatic Sea (former Yugoslavia). Israel. Italy, Slovenia, Slovakia, Czech, Cyprus...Through it all, I continued my writing and website work for my clients.
As 2018 wound down, I'm still living and working on the road, taking travel breaks in between long-term trips or adventures.
Timezones permitting, I discuss the tech on Computer Talk Radio. Time permitting, I post parts of my travel journal on Tales of Travel and Tech (dot com). I also speak about travel when possible.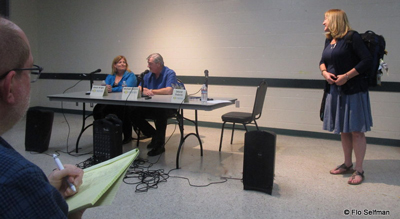 (Not so)
Recent Speaking Gigs
February 16, 2019
Independent Travel for Folks 45+
10:30am - 11:30pm
Part of the Greater Los Angeles Area Mensa Regional Gathering
Info on the GLAMM website
and on this website.
January 29, 2018
Panel: Travel & Food Writing
7:30 to 9:15 p.m.
Info: here at IWOSC.org
January 30, 2017
Panel: Websites for Writers

Computer Talk Radio,
Syndicated over-the-air.
Ongoing, weekly.
Info at ComputerTalkRadio.com.


Podcast version can be heard by clicking a link to the right of any show note.
My Speaking schedule page.
Some of what I do....
I'm a writer/author, speaker, instructor, consultant, and radio person — specializing in Macintosh, Internet, Web design/use/UI, and travel. I've even produced Macintosh events in LA and during Macworld — and produced my own Macintosh expo!
Radio & Public Speaking:
Computer Talk Radio — I'm on the air weekly on this nationally syndicated radio program with computer nerd Benjamin Rockwell. (Some more about my Computer Talk Radio segments here.) However, in December, I took a hiatus due to a 10 hour time difference and freezing overnight tempertures in Israel's high mountain area. I am not currently speaking on CTR.
I've been speaking to groups about the Mac, websites, internet use and more for many years as well. If you need a dynamic speaker for any of these topics, lets talk, especially now as I am already traveling.
For some years, I was a Mac expert on Jeff Levy's Computer show in Los Angelese and helped with segments behind the scenes. You can hear some of my radio segments on my speaker page.
I speak about world travel, about issues of technology during travel, and about packing and preparing wisely.
If you want to be inspired to travel the world, I'm your person — and I am available for speaking engagements!
"Thank you for coming to present to us. Everyone was very engaged and interested in what you shared. They're rarely so enthusiastic during a presentation.  ~DK 2016
Web Design and Web site Authoring:
A website isn't much help if the right people can't find it or if visitors can't quickly see what your site offers them. Frankly, I'm rather unique in that I design a clear user interface, format the pages for the best search results — and most importantly, write copy that's right for a website as opposed to any other medium. Whether you already have a site or are just starting one, you can still benefit from my expertise. More about my website work.
Freelance writing:
I have a long history of well-received books, newspaper and magazine columns and feature articles, and web-publised articles. I have written for every major Macintosh publication, been published in PC World, and been published in several countries outside of the USA as well.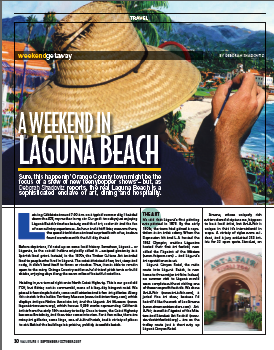 After years of writing only about Mac and Web, I went back to a bit of travel and other writing. In 2009, I also did a sting as Editor of ValleyLife magazine.
My favorite focus these days is writing about travel. Please consider me if you're in need of a piece. I am always free to travel and i am confortable in any accomodation from a tent or hostel to a 5-Star hotel, in new hotels or on ancient ones, in almost any part of the world.
You can see some of this on my author page.
Macintosh Consulting & Training:
Teaching Mac, helping people with Mac and writing about it, go hand-in-hand for me. However, I'm not actively doing this any longer because I'd have to leave my clients when I travel. I did, however, help plenty of hosts, friends, and fellow travelers while on the road.
When Apple was going through it's most difficult times, both the LA Times and the LA Daily News contacted me as an expert to learn from and quote.
See those articles — and where I was quoted in Women's Day.
Events:
I am not currently producing events but these are a few of my creations.
How do contact me (updated 2023):
I gave up my landline in 2011 when I gave up having a homebase apartment. Soon after, I gave up my long-time AT&T cell number because theroaming fees or maintaining it were not cost-effective. However, I made sure there was always some way for friends and clients to get in touch with me, no matter where I went.
Here's how to contact me:

iMessage — if you're an Apple user. Unlike regular texting, Apple users can text for free — and the messages are encrypted. My email addresses are attached to my iMessage so you can text me for free no matter what country I am in. (I give my address right below.)
Text me — only if you know my phone number and you and I are in the same country.
Send me an email — deb at this domain.
Have old-fashioned patience with email as I'm in different time zones when out of the country, and don't check email often when I'm out around LA either.

Use WhatsApp (or better, Telegram)— for texts or calls. WhatsApp says it's encrypted and it may be, but it's owned by Facebook so I don't trust it much.
You will see me on it if you have my Google Voice # in your address book.
WhatsApp enables us to text, send photos or video for free and across counties, even when I (or you) don't have an active cell phone number. Signal is just texting (at least as I write this) but I trust it much more.

Call or text my Google Voice mail.
I no longer have the call app here because it required Flash. But if you know my GV#, just dial it or text to it.

When I'm in the USA, it will forward your calls to my US SIM.
If not, it's Voice Mail-only and you'll hear me say to leave a message. Speaking very clearly, leave me a detailed message, but this is Google so don't get too personal. Be sure to leave your # and email address.
When online, I'll see your words as text and can listen to your message. If you don't leave a message I will not call you back because I get wrong callers seeking baby formula daily.


Viber — Another VOIP app, it lets us call app-to-app for free. If I use it to call you, you'll see my GoogleVoice #.
Skype: DSShadovitz — but clearly identify yourself in your request. I also use Skype to call out to people in countries other than you the USA. This is not a first-choice app for me.
I'm proud that my brother, David Shadovitz, is co-developer of Exam Professor, an online exam application that won the prestigous Adobe Site of the Day award a while back.

If you need an online quiz or test, check it out!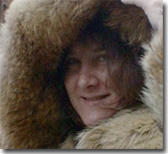 Looking for my brother, David Shadovitz, the ColdFusion software engineer and bicycle mechanic?
You can reach him via this link.
Looking for another Shadovitz?
Chances are, he/she is a relative,
so send me a note to forward.
Thanks for visiting
~ Deborah ("Deb")
PS: that's me in an Eskimo jacket when I came to Anchorage
as a book author and spoke at several venues.