Hi. I'm Deborah Shadovitz. Friends call me Deb.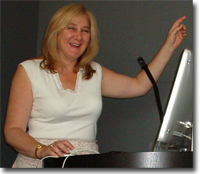 I'm an author, speaker, instructor, consultant, event producer, and radio person — specializing in Mac, Internet, and Web. Now, I'm all THE Editor of ValleyLife magazine.
Friends always teased that I'm
out to change the world — and I am.
I share tech skills to help people achieve by making computers easy for people.
I keep pretty busy. Here's some of what I do.


Editor:
After years of writing only about Mac and Web stuff, I went back to a bit of travel and other writing, including writing for ValleyLife magazine.
In May I became Editor (which is actually Editor-in-Chief/Assignment Editor) of ValleyLife magazine, a print publication that comes out 6 time a year and serves California's West San Fernando Valley: Tarzana, Woodland Hills, West Hills, Hidden Hills, Calabasas, and Agoura Hills.
June/July — my own features: motocros

s dynamo Chelsy Swenson; the Kern River Valley and white water rafting; and an interview with Amy Brenneman.
View in the online viewer.
Direct link to the June/July issue PDF.
August/Sept — my features: Big Bear Lake; Tim Petros about VR; and In-Three's ground-breaking 3-D technology.
Direct link to Aug/Sept PDF.
Freelance writing:
Since September, because of my web expertise, I have been writing some reveiws of web software for Macworld magazine. Last summer I reviewed Freeway. I reviewed iWeb '09 for both the website and the April print edition, and then SiteGrinder. Then several more reviews for Macworld.

Radio:
Events:
Mac Mingle — my Macworld Expo party. I broke the mold by creating the first free, open to all badge-holders party.
(First called the Party For The People.)."

MacDayLA — a one-day Mac event each odd month or so.

The MacGathering™ — a full-fledged Apple/Macintosh event. Custom-designed top-notch seminars & classes, plus unique social happenings. I was going to hold the MacGathering™ on May 1-3 this year but the economy is hurting expos greatly, so I'm waiting.
However, if you want to see local area Mac events happen, And if you want to exhibit an Apple or Mac-related product?
I've been asked to have a donation button for those who'd like to thank me for something learned here or for other help I've given. So, if I've helped you and you'd like to throw a couple of dollars into my MacBook Pro and Mac Events fund, I'd be honored.


Recent Articles:
Macworld Reviews
Macworld.com
and Australian Macworld

ValleyLife magazine
Big Bear Lake to beat the heat
More
So what can you do on this website?
Read some misc thoughts on my not fully linked blog. It's for stuff that doesn't have a set place on this site yet.
Get to know me through the Deborah and Travel menus on the left.
Learn about me as a speaker. I can talk about many things tech including what comprises a great website, teach at your event, or help your company with Mac or word processing efficiency.
Invite me to write about computer use. I write about aspects of computer use making it understandable in ways that most people don't. People say reading my work is like having me standing over their shoulder explaining it.
Contact me as an expert for your news piece or feature. The Los Angeles Times and Los Angeles Daily News have. I've also been featured in Women's Day magazine. See those pieces here.
Developers — contact me to check out or comment about your product. Many vendors have benefitted from my UI reviews. I also write or advise on manuals.
Expand your Macintosh computer knowledge.
Learn about world travel or about visiting LA or NYC through each respective menu.
Have children's CDs circa 1994-1999 laying around unused?
I'd welcome them for area children.
I'd be happy to cover the postage if you'd like to mail the disc(s) to LA.
I'm proud to announce that my brother, David Shadovitz, is co-developer of Exam Professor, an online exam application that won the prestigous Adobe Site of the Day award! If you need an online quiz or test, check it out!
~ • ~ • ~ • ~ • ~ • ~ • ~ • ~ • ~ • ~ • ~ • ~ •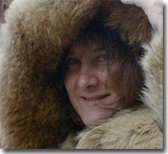 Looking for my brother, David Shadovitz, the ColdFusion software engineer and bicycle mechanic?, You can reach him at
Looking for another Shadovitz? Chances are, he or she is a relative so to forward.
If you don't see menus on the left, you likely have JavaScript turned off. IE in Windows does this for security reasons. If you miss JavaScript consider switching browsers or give up on Windows. Meanwhile, you can use the Site Map to see what's here.
Thanks for visiting.
~ Deb
This page last updated by Deb Shadovitz at 11:09 AM on Wednesday, September 2, 2009